Welcome to Slide Night at Back in a Bit. Sit back, relax and get ready to travel far away from your desk and your sore computer eyes as we share our favourite travel snaps and the quirky stories behind them.
Today I've chosen three small photos rather than one large one.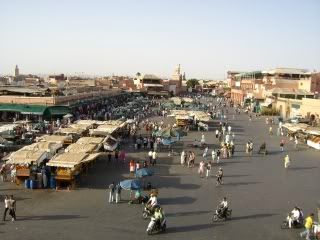 .
Shot using:
Casio EX-S600
During a whirlwhind trip to Morocco — a few days up in the mountains at the peaceful Chefchaouen, followed by a long and windy bus ride, nearly losing our luggage, confusing ourselves in the Fez medina, a cramped overnight train ride and the crappiest 'Sahara desert' trip ever with sore bums from the camels and not a dune in sight — I was not particularly excited about visiting Marrakesh. I assumed it would just be another bustling city, full of touts and markets selling the same leather sandals and beaded scarves. You know, interesting and pretty and everything, but travel fatigue was setting in and I didn't have my hopes up.
It was so lovely to be wrong.
We sat in a crap rooftop cafe overlooking Djemaa el Fna, the main square of Marrakesh and ate pizza and drank soft drink as the madness unfolded and the sun set. The darker it got, the busier it became, until the square was full of food stalls, street boxers, snake charmers, dancers, drinks stalls, bag sellers and people speeding by on motorbikes. It was a riot of colour and action.
After sitting and watching from above for several hours we headed down in amongst in. During the street boxing, bets were being placed and front row seats awarded to grandmothers. The snake charmers seemed a sad lot, almost existing solely for the purpose of getting tourists to take their photo and charge them for it. Touts spruiking their food stalls became your best friend for the night, offering the best food in the city "at my stall! number 43! You remember!". It was crowded, young men seemed to slide past just a little too closely and it was hot.
The next morning the square was empty again.
Have you got an amazing travel snap (jpeg format, s'il vous plait) and story you'd like to share on 'Slide Night'? You don't have to be a professional and it doesn't have to be "exotic". Just send it through to [email protected]
Don't get mad. Get Crikey.
Get full access including Side View and Crikey Talks.
Subscribe now and save 40% on a year of Crikey and get one of our limited edition Crikey sticker packs.
Hurry! Ends midnight Friday.
Peter Fray
Editor-in-chief of Crikey
40% off + free merch