Quick, who are these six people?
____
Apparently, it's all in the eyebrows. In an MIT study subjects were asked to identify celebrities by altered photos: without eyebrows, and without eyes. With eyebrows, but sans eyes, celebrities were recognised 60% of the time. With eyes but sans eyebrows, only 46% of the time. So, stop plucking them or we'll not be recall … who are you again?
___
And again:
____
Not so hard, then. Duh, but anyway, answers –
l-r; top first: R Nixon, W Ryder, T Rein, M Turnbull, Rusty, Delta.
+++
An online interactive chicklit novel by instalments
Great fun: Saving Face by Dahlia Lithwick, at Slate. Lithwick is otherwise a senior editor at Slate and their extraordinarily erudite legal correspondent. The interactive bit is that readers write in with suggestions, or answer the author's calls for ideas and assistance.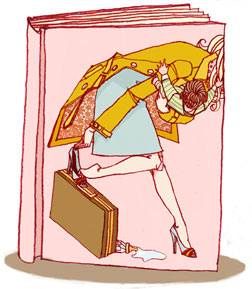 It's up to Chapter 7. Here is the first bit of Chapter 1:
You know that small secret shiver of delight you get whenever you hear about somebody you know splitting up?
I'm not getting it.
"But why?" I ask Marina, again, juggling phone, water bottle, and steering wheel. "Is he cheating?"
"No," she says.
"Are you cheating?" Like I wouldn't know. Marina hasn't participated in an unreported sexual act since 1989.
"No!"
"Is he stealing office supplies? Seducing his students? Plagiarizing arcane law review articles?" I strain to imagine poor Bob committing these or any other such wrongs. Aside from his invisible floor-length cape of boringness and a tendency to begin every sentence with the law professor's "So," Marina's husband is pedestrian in every way. He was, as far as I can tell, born 43 years old and has spent the rest of his life making middle age his primary place of residence. He's 36.
"He hasn't done anything," sighs Marina. "I haven't done anything. We just aren't happy. We haven't been happy in years. There he was, walking out the door just now, and I couldn't think of even a single reason he shouldn't."
+++
Recent posts: Barack the barbarian … Friday Mulch: Tarantino defended; and a 40-yr-old drumbeat … Gloriana: the fever of human voices … Nick Cave, censored … Julia Gillard: the fish rots from the head
See how power works in this country.
Independence, to us, means everyone's right to tell the truth beyond just ourselves. If you value independent journalism now is the time to join us. Save $100 when you join us now.
Peter Fray
Editor-in-chief
SAVE 50%